JSW's twin screw extruder "TEX" series are also used for making Wood-plastic composites.
Wood-plastic composites (WPCs) are environmentally friendly and durable material.
WPCs can also be recycled into new WPCs therefore they are one of the important factors for sustainable circular economy.
Not only dry wood flour, but also wet wood flour can be processed by TEX.
JSW can conduct various tests at Extrusion Technical Center in Düsseldorf, Germany.
We also prepare the leaflet about this technology.
If you would like to read our leaflet, please contact us (tojo@jsw.de) or via Contact Form.
<Leaflet sample>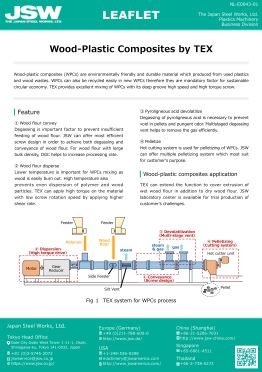 [Technology] Wood-Plastic Composites by Twin Screw Extruder "TEX"