JSW developed a special kneading barrel which is called "NIC" (Nikko intensive cylinder) and it has been used over 25 years.
In order to improve the mixing & dispersion performance for compounding application, NIC has some grooves on the inner surface of barrel.
More polymer can pass through the gap between grooves and screw tip, thereby the higher shear stress can be given to more polymer.
More efficient mixing performance can be expected due to extensional of polymer.
Let's try the performance of NIC for your process at JSW Extrusion Technical Center in Düsseldorf, Germany!
If you would like to read our reaflet, please contact us (tojo@jsw.de) or via Contact Form.
<Leaflet sample>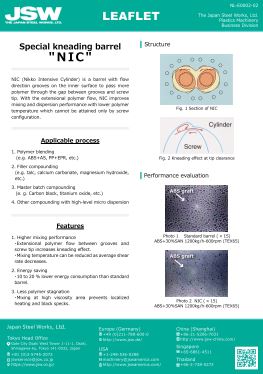 [Technology] Special Kneading Barrel "NIC"